The Ashram
Tapas' is intense heat with its derivations, zeal, fervour, austerity, asceticism. 'Vana' (in Tamil 'vanam') means forest. The Taittiriya Upanishad goes on to point out that the higher purpose of tapas is a withdrawal of the mind from hindrances and temptations of the world and flesh and the clarifying of its vision to be able to perceive what is spiritual and true. Hence getting rid of cravings and focusing all the energies of the mind on the Divine Reality is the purest and highest form of tapas." Thus the scripture places the highest ideal before us by saying 'Meditation on the Supreme is tapas par excellence'. Such was the ideal the Swami set for his inmates at the ashram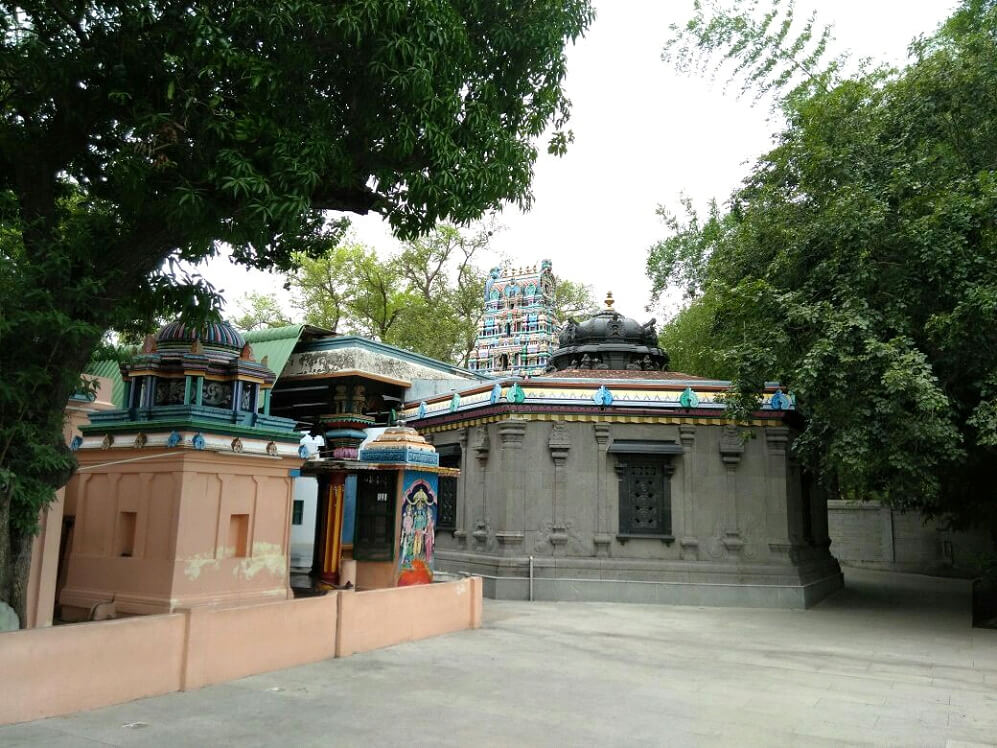 "Sri Gnanananda Thapovanam" is a quiet place, situated on the northern banks of Pennar river, near Thirukovilur in Tamil Nadu. Thapovanam meaning "forest of penance" is today a place of pilgrimage. It is situated within a couple of miles from a sacred town called "Tirukovilur", meaning a town of sacred temples. Swami Gnananandagiri Swamigal established his modest ashram at Thapovanam, a place which was identified by Swami himself for its spiritual potency. It is believed that Mrigandu Maharishi, centuries ago, undertook penance at this holy place, having cluster of five old mango trees. In the year 1951, an ardent devotee of Gurunathar Sri P.R.Subramania Ayyar dedicated the land – where the present Thapovanam is situated – to Gurunathar and Gurunathar decided to establish the Thapovanam in a place where five mango trees stood and called it "Athyathma Vidhyalayam" in the same year. Paranur Sri Krishna Premi Swamigal in his book 'My Archavathara Anubavam' describes that some few years before Gnanananda Thapovanam was established
Sri Vasudeva Brahmam did penance there at the place below these mango trees and Lord Rama and Lakshmana appeared before Sri Vasudeva Brahmam and gave darshan as Trivikrama. Gurunathar, at a later stage told a devotee Sri Narayanan that he used to take bath in River Pennai and sit in Dhyan under this mango trees and the idea of establishing an ashram here was born during one such time.
As the Tamil saying goes 'Aalayam thozhuvathu saalavum nandru' (worshipping in a temple is a very good practice) Gurunathar established a temple at Thapovanam to facilitate the people around the place to have darshan and to have daily poojas at the Ashramam. This also helped those who wanted to do dhyana for spiritual experience Gurunathar first did Pradhishta of Gnana Vinayakar and then Gnanaskandar with his own hands and both these murthis were consecrated on 07.02.1958. Then he did Pradhishta of Gnanapureeswarar, Gnanambigai, Gnana Dakshinamurthi and other parivara devtas and these were consecrated on 02.05.1966. After some time Gurunathar established the Sannadhis of Gnana Venugopalan, GnanaMahalakshmi, Gnana Anjaneyar, GnanaBairava, GnanaDurga, Navagarahas and Chandikeshwara. The deities were given chaitanya (power) by Swami through his graceful look and sankalpa, and the deities today shower their "anugraha" to all those devotees who pray and surrender. Swami finally made this Ashram his regular living place, until he attained Mahasamadhi in the year 1974. A shrine of grace has been constructed over his "Samadhi". Swami did not appoint or nominate any spiritual successor but instead formed the G Trust with 9 trustees to take care of the activities at the Ashram. Even today, every grain of sand at Thapovanam is pulsating with his life and message, and vibrating with his Divine Presence. As he mentioned, that his Samadhi is one of a "Jeeva Samadhi", meaning that Swami is omnipresent, though not present in physical form among us. The Ashram today attracts devotees and disciples from far and near, where one immerses into "Guru bhakti". Prayer and worship, through singing of hymns and stress on " guru bhakti" have been the marked features of life at Thapovanam.
After Mahasamadhi of his Guru, Swami adorned the peetam of Jyotir Mutt for some time before relinquishing the same for undertaking intense penance at Himalayas. After long period of seclusion, swami traveled extensively on foot , spanning the whole of India, Tibet, Nepal, Malaysia, Burma and Sir Lanka. Finally, swami is believed to have returned to Southern India and from around 1966, Swami permanently stayed at Thapovanam. Before that, swami established ashrams at Attyampatti, Siddhilingamadam, Dalmiapuram and also one at Yercaud (established later) known as "Pranavanilayam".
The Ashram established at Thapovanam by Swami is a special one, managed by Swami himself in a special way. While he insisted on discipline, austerity and devotional fervour, he did not run the ashram according to the popular notions of the organisation of Ashrams. There was freedom from regulations and rules in his presence. True love, purity and total surrender surcharged the atmosphere in the Ashram. Everybody in the Ashram dedicated themselves to "Bhakti" towards their Guru (Swami) and the overall activities followed throughout the day, has the 9 forms of Bhakthi (Navavitha Bakthi) incorporated subtly.