Swami meeting his Guru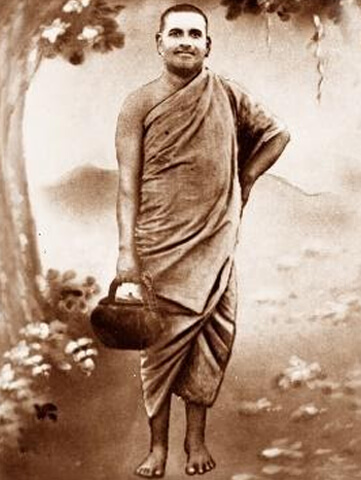 Based on various anecdotes and a few casual remarks of the Swami himself it is learnt that the advent of Swami Gnanananda must have been sometime early in the last century. It is believed by many of his devotees that he was born in the month of 'Thai' of Tamil calendar (January) with the birth star of 'Kritika', in the village of Mangalapuri in the North Kanara District of Karnataka State, to an orthodox Brahmin couple, Sri Venkoba Ganapati and Srimathi Sakku Bai. Here is one instance of his humorously describing his parentage: "Swami was born in Mangalapuri, at least that is what people believe (with the curious note of impersonality and wit in this account).
He was named Subrahmanyam. The religious function of his investiture with the sacred thread and initiation into the Gayatri Mantra, 'Upanayana' was performed by his parents when he was seven. He seems to have left his house at a very early age, perhaps when he was eleven or twelve. Was it the urge to know the Self that drove him to that ancient and famous pilgrim centre in 'Maharashtra State, Pandharpur, where he offered worship to Lord Panduranga? One does not know. It was to this hallowed spot, however, that he was led by a divine light and it was there that the disciple heard the call of the guru.'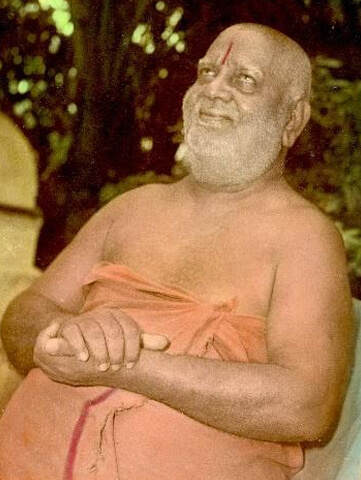 One night when he was sleeping in a mandap on a sand dune on the banks of the sacred river Chandrabhaga, he was awakened by an old brahmin who expressed his appreciation of the boy's spiritual quest and informed him that a saint destined to be his guru "was right there at Pandharpur and that he could join him". Subrahmanyam was disappointed when this strange messenger who had gone for his bath in the river failed to come back. Slowly realising that it was the Lord himself who had guided him in this mysterious manner, he made enquiries in the morning and learnt that Sri Swami Sivaratna Giri, of Jyotirmutt, one of the four mutts established by Adi Sankara himself was camping in the city. Driven by his own urge to find his guru and attracted by the grace of the seer, the boy eagerly ran up to Sri Swami Sivaratna Giri and offered salutations to him in the traditional manner and stood visibly moved in his august presence.
It is significant that this is one of the very few events of his life on which the Swami chose to comment.
More important still is the way he was moved to tears by Bhakti,' for all his being a gnani, whenever he referred to this incident. References to his master by the Swami were rare and invariably brief and even in those precious moments, emotion surged in his heart and obstructed the flow of words. It is appropriate to recall here what the Swami had to say describing the most important event of his life when he offered himself to his guru: "This world is a river in spate with strong currents of strife, sorrow and agony threatening to engulf us. But good fortune it was that rescued me from these dangers and seated me firmly on the effulgent rock of Sivaratna, His Grace enveloped and took full possession of me in time before I was drowned. My master was waiting for me under a tree on the shore and the powerful glow of his eyes drew me automatically to him like a magnet." It was as if the guru and the disciple were waiting for each other. Grace brought them together. It was a spontaneous and absolute surrender.
It is said that he who chooses the Divine has already been chosen by the Divine. Sri Swami Sivaratna Giri acknowledged his profound devotion by commanding him, "Keep my 'Kamandalu' (water pot) ever filled with 'theertha' (holy water)" and thus bid him do intimate personal service. Soon impressed by the boy's burning vairagya' or dispassion, his 'prapanchavirakthi', astonishing indifference to the material world, his inborn fascination for spiritual life and intense aspiration for Self-Realisation, Sri Swami Sivaratna Giri accepted him as his disciple and named him 'Pragnana Brahmachari'.
Swami then followed his guru, Sri Swami Sivaratna Giri, like a shadow and derived great delight in serving him. There is a valuable reference to the kind of absolute devotion with which he served his master. Partly in his characteristic vein of irony and partly seriously, Swami used to chide his devotees whenever they were found to be lax or indifferent in their work and tell them how he, as a disciple, would do all the menial duties to his master with great love and devotion. Under the guidance of his guru, the Swami not only became proficient in 'Ashtanga Yoga' but also learnt all the texts of Hindu scriptures. Constantly engaged in reflection and contemplation of the Upanishadic truths, the Swami was steeped in intense spiritual sadhana. The years spent by him under the tutelage of his Guru were doubtless. replete with scintillating episodes of joy and experience.
When our Swami was about thirty-nine years old, Swami Sivaratna Giri indicated to his disciples his intention to shed his mortal frame. Shortly thereafter, 'Pragnana Brahmachari' was initiated by his guru in the traditional manner; into the 'Giri' order of Jyotir Mutt and was given the' 'Diksha Nama' or monastic name of 'Sri Gnanananda Giri' and the 'Danda' (staff), 'Kamandalu' (water pot) and saffron robes. Sometime later, Swami Sivaratna Giri attained Mahasamadhi as forecast by him, in his eighty-first year, on the full-moon day in the month of 'Chitra' (April-May). The anniversary of this event' is celebrated even today as his commemoration day at Tapovanam, Attiyampatti and other ashrams established by Swami Gnanananda.